Zion Market Research has published a new report titled "Chelating Agents Market by Product (Sodium Gluconate, APCA, Organophosphonate and Others) Market for Pulp & Paper, Household & Industrial Cleaning, Agrochemicals, Water Treatment, Chemical Processing, Consumer Products and Other Applications: Global Industry Perspective, Comprehensive Analysis and Forecast, 2015 – 2021." According to the report, the global chelating agent market accounted for USD 4.80 billion in 2015 and is expected to reach USD 6.31 billion by 2021, growing at a CAGR of around 4.11% between 2016 and 2021.
Chelating agents are organic compound which are capable of forming coordinate bonds with metals through two or more atoms of the organic compound. Chelates compounds are more stable than nonchelate of comparable composition. Chelating agents achieve this by coordinating with metal ions at minimum of two sites.
Get sample report@ https://www.zionmarketresearch.com/sample/chelating-agents-market
Global chelating agent market is primarily driven by increasing growth of pulp & paper industry across the globe due to increasing demand for graphic and tissue papers. Growth of cleaning & detergent industry coupled with high demand for water treatment chemicals is expected to uphold the growth of chelating agents market in the forecast period. Increasing availability of biodegradable aminopolycarboxylate products is expected to be high impact rendering factor for growth of chelating agents market over the years to come.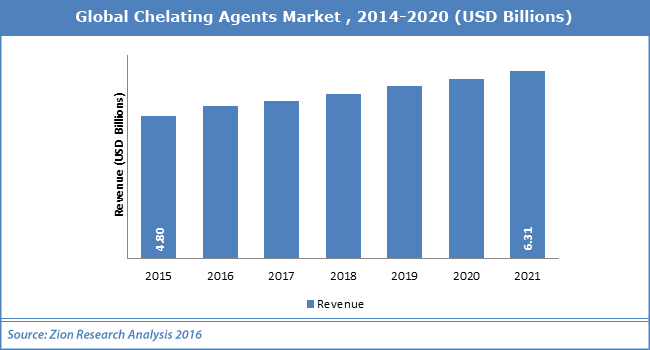 Sodium gluconate and APCA together dominated the chelating agent market with combined share of 74% market volume in 2015. Increasing usage of APCAs in household and home care applications, mainly for  water treatment coupled with increasing availability of biodegradable APCA products is expected to drive the demand for APCA segment significantly. Use of sodium gluconate in detergents, personal care products, and industrial applications leads to rise in demands of sodium gluconate with over 380 kilo tons in 2015.
Pulp & paper emerged as the leading application segment in term of revenue as well as volume in 2015. It accounted for more than 35% of volume share in the same year. Major factors driving the growth of this segment includes rising demand for graphic and tissue papers , benefits such as enhanced effectiveness of hydrogen peroxide and hydrosulfite bleaches and lower bleaching costs. Household & industrial cleaning was the second largest segment valued over USD 970 million in 2015.
Browse the full report at https://www.zionmarketresearch.com/report/chelating-agents-market
In terms of geography, Asia Pacific was the largest market for chelating agent in due to the increasing demand from of cleaning & detergent industry coupled with increasing growth of pulp & paper industry. In terms of industry volume, Asia Pacific accounted for over 38% share of total chelating agent market in 2015.
Some of the key companies operative in the global chelating agent market includes Cargill Incorporated, BASF SE, AkzoNobel N.V., Sigma-Aldrich Corporation, Archers Daniels Midland Company, Dow Chemical Company, and Lanxess AG amongst others.
This report segments the global chelating agents market as follows:
Global Chelating Agents Market: Product Segment Analysis
Sodium gluconate
Aminopolycarboxylate (APCA)
Organophosphonate
Others
Global Chelating Agents Market: Application Segment Analysis
Pulp & paper
Household & industrial cleaning
Water treatment
Agrochemicals
Chemical processing
Consumer products
Others
Global Chelating Agents Market: Regional Segment Analysis
North America
Europe
Asia Pacific
Latin America
Middle East and Africa
Contact US:
Zion Market Research
4283, Express Lane,
Suite 634-143,
Sarasota, Florida 34249, United States
Tel: +49-322 210 92714
USA/Canada Toll Free No.1-855-465-4651
Email: sales@zionmarketresearch.com
Website: http://www.zionmarketresearch.com